ORAL SESSION: HOW TO MAXIMIZE NON-PROFIT MANAGEMENT
Recorded On: 04/01/2020
April 1, 2020 - 3:00pm ET
1.0 ADVANCED
Moderator: Jagdish Khubchandani, PhD
Intro: APHA and Climate Change
Lisa M. Carlson, MPH, MCHES®
Key Strategies for Managing and Maximizing a Non-Profit Organization Serving Low Income Students
Diane Allensworth, PhD and Christi Kay, MA Paul J. Schramm, MS, MPH
Learning Objectives:
1) Describe key strategies for improving organization effectiveness in promoting social justice.
2) Identify key strategies to promote physical activity and nutrition to low income students and families.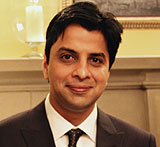 Jagdish Khubchandani, PhD
Jagdish Khubchandani is an Associate Professor of Community Health Education at Ball State University, USA. He has doctoral degrees in Clinical Medicine and Health Education. His research interests are in the field of Clinical and Social Epidemiology, Community and Global Health. Dr. Khubchandani's research has been published in more than a dozen prestigious scientific journals. More recently, his research has also been highlighted by popular media outlets like Fox News, US News and World Report, CNBC, Yahoo News, Huffington Post, and the Chicago Tribune. He also serves as an Associate Editor and Editorial Board member for 9 different scientific journals in the field of public health and medicine. Dr. Khubchandani was the recipient of Indiana Governor's Service Learning Award (2012), Hurley Goodall Distinguished Faculty Award (2012), and the Ball State University Outstanding Junior Faculty Award (2014).
$i++ ?>

Christi Kay
President, HealthMPowers,
Christi Kay is a leader in health and PE, having served as a teacher from the pre-school to college levels and as HPE Curriculum and Instruction Specialist for the largest school district in GA. Currently, she is President of HealthMPowers, a nonprofit organization that has been recognized with the President's Council on Fitness, Sports; Nutrition Community Leadership Award and SOPHE's Program of Excellence award, committed to improving health and environments for students and families. Christi developed the statewide fitness assessment training for GA and oversaw its implementation for all K-12 public schools. She also led the statewide training for Power Up for 30 elementary schools, now expanded to include middle schools and out-of-school time providers. She is a national trainer for CDC's school health index, as well as a master trainer for the President's Youth Fitness Program.
$i++ ?>

Diane Allensworth, PhD
Consultant, HealthMPowers, Inc.
The presenter has 40 years of experience in school health working as a health educator at Kent State University from 1976 to 1995 and now is a Professor Emeritus. While on faculty at Kent State University, she began working with the American School Health Association ultimately serving as their Executive Director from 1995-1997. Beginning in 1997, she became Branch Chief for Program Development & Services Branch, Division of Adolescent School Health, CDC. From 2001-2005, she was on loan from CDC to the non-profit, serving as the organization's first Executive Director. She continued as a Board Member and works as a consultant to the non-profit. She has written or co-authored numerous articles and documents including the Institute of Medicine's report in 1997, Schools and Health & was on the committee that wrote the Whole School, Whole Child, Whole Community model.

$i++ ?>
Components visible upon registration.